In dental medicine, x-ray is the chief way to visualize that which cannot be seen: hidden cavities, cysts, retained teeth, the alveolar bone, the sinus floor. We are happy to be able to offer our patients a new x-ray technique in addition to traditional intraoral and panoramic x-ray radiographs.
Modern digital cone beam tomography (digital 3D x-ray) records high resolution three dimensional x-ray images of teeth, connective and nerve tissue, bone and cartilage in the region of mouth and jaws. These images are digitized in mere minutes and can be viewed, rotated and thus examined from all sides on a computer monitor. This put us in an ideal place regarding diagnostic possibilities as well as treatment planning.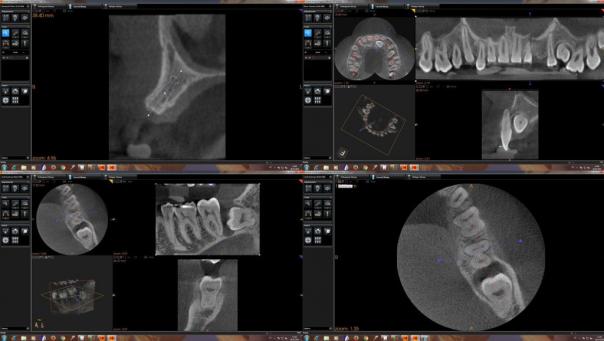 Prior to a root canal treatment, we can get a clear picture of the number and location of root canals in a tooth. When planning a difficult wisdom tooth extraction, we can examine the anatomy of the alveolar bone and ascertain whether the roots are in close proximity to any nerves or the sinus floor. And in the presurgical planning and assessment phase for dental implants, 3D cone beam scans allow us to precisely measure depth and height of the jaw bone, enabling a reliable prognosis for the temporal and methodical expenditure of the implantation process.
Digital 3D x-ray is similar to computer tomography, but has some unique properties and advantages that make it particularly applicable for dental medicine. For patients, the number one advantage is the considerably reduced radiation exposure, closely followed by the quick, comfortable scanning protocol with the focussed cone beam that compares favourably with the claustrophobic conditions inside a CT scanner. Another plus: There is no need for extra appointments at a diagnostic center for radiology. All the diagnostics we need, we may perform right here at the office. The scans are immediately available – that means, in most instances, we can continue our treatment right away, and you save big on time and inconvenience. Should you require dental treatment elsewhere – because you are traveling, or have moved, or for some other reason – we may e-mail your x-ray scans to the clinic where you are being treated. Just give us a call, and we'll send the images ASAP. Image files are normally viewable with the common office software versions of medical practices and clinics everywhere. Thus, your doctor is provided with detailed information and may in many cases forego additional x-rays.